Markets
Avalanche AVAX/USD is nearing $10. Why this could be an important make-or-break level
Celebrated DeFi platform Avalanche (AVAX/USD) is having a rough time this year. Having traded at a high of $150 in November 2021, it has failed terribly this year. From its all-time high, AVAX has now crashed by nearly 93% to its current $11.7 price. The cryptocurrency is now headed to $10, a crucial level that could spell stability or doom for the token.
AVAX's boom in 2021 reflected a growing interest in DeFi. The platform provides tools to let users launch decentralised applications. However, a spiral of activities, including the Terra Luna crash and economic tightening, has hit the blockchain hard. The FTX crisis has been the last blow that has accelerated the bear market.
AVAX tumbles as cryptocurrency heads to an important support zone
AVAX lost an intraday of 1.17% to take losses in the week to 12%. The cryptocurrency was, however, trading with slightly higher volumes of 22%.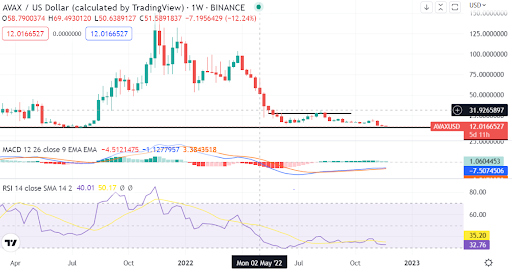 AVAX prints a bear momentum heading to the $10 support. The cryptocurrency is in a clear system of lower lows and lower highs.
On the weekly chart, AVAX lost the $15 level, paving the way for further decline. The MACD indicator shows the bears are still in control. The RSI shows AVAX is nearly oversold.
Why could $10 be crucial for AVAX?
AVAX at $10 would mark a crucial make-or-break level. The level would be the lowest for the cryptocurrency since June 2021. AVAX has defended this level for two years now. The $10 zone was defended in June 2021 when AVAX initiated a bullish recovery. A price boom followed.
Should AVAX break below $10, we could head to the lows of 2020. The next price in the range will be $4.3. 
Where to buy AVAX
Binance
Binance is one of the largest cryptocurrency exchanges in the world. It is better suited to more experienced investors and it offers a large number of cryptocurrencies to choose from, at over 600.
Binance is also known for having low trading fees and a multiple of trading options that its users can benefit from, such as; peer-to-peer trading, margin trading and spot trading.
Coinbase
Coinbase is a global cryptocurrency exchange. Its platform is well designed for beginner investors and it offers a wide range of coins, as it has over 100 to choose from.
Coinbase has high level security built into the platform, a range of diverse features to use and it offers its users options for storing their crypto, such as being able to store coins on the Coinbase exchange.
Source link